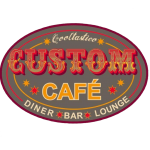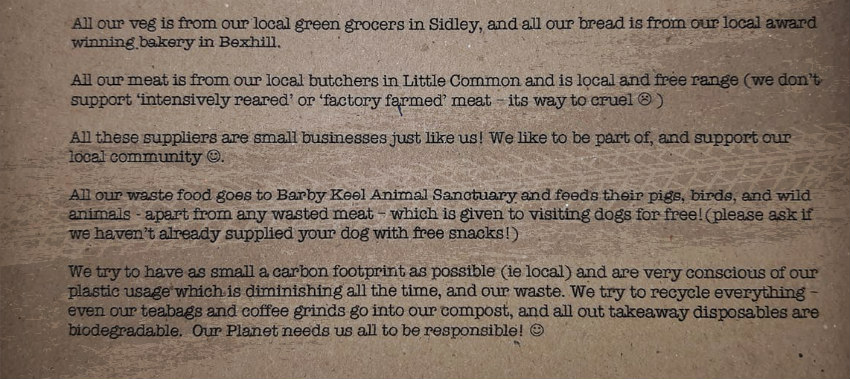 We take our food very seriously at The Custom Café and, wherever possible, use only ethical means to serve you the very best products. From January 2019 we have been sourcing only Sussex-bred almonds for our milk.
Now great food 'ON THE GO' at The Custom Café!
Not many places offer you free range and local meat and eggs, local artisan bread, homemade vegan sausages and falafels, home cooked ham, and all served in biodegradable containers and at normal prices!!
Not your average establishment and all round friendly – to you, local businesses, animals, veggies, and our environment!
We make our own cappucino & latte biscuits to avoid those pointless plastic wrappers. Our sweets, nut snacks & bottle fridge now contains no plastic, plus we make all our food at the cafe. This negates for far less pointless packaging, and we help this along as all our bin liners are biodegradable.
Soon – we will be plastic free with milk- but it will cost us £100/m more! The reason is- it's much better milk, a smaller dairy plus its local & the logistics are much harder- …but to be more environmentally friendly – costs us a whole lot more- with absolutely no savings on VAT.
Why do our milky coffees taste so delicious?
Because…we only buy our diary milk from Northiam Diary, a family owned farm on the border of Kent and Sussex. Pasteurised, not homogenised.
It costs us more to give this to you – which you dont see in our prices, but we would rather support local businesses, and healthier & kinder practices.
But also- we are trying really hard to reduce our plastic waste to as little as possible. We currently have it delivered in their 10l reusable plastic tubs.
However- we are investing in 20 of our own (quite expensive! ) Stainless steel milk churns for Northiam Diary to sterilize & refill- to then have ZERO plastic waste (milk wise…no bottles or pointless plastic wrapping) & much healthier milk from free range cows! 
Helping to save the world has a cost ( it is so annoying the government doesn't assist to encourage  this!).
We are not playing to just look good to our customers as we will tackle the businesses that are there to ensure things are done correctly for the sake of us all.
We have been featured in local newspapers trying to highlight some of the issues we face as a business in trying to do our bit. Please read this article here…